Pleasure Grounds, Thoresby Park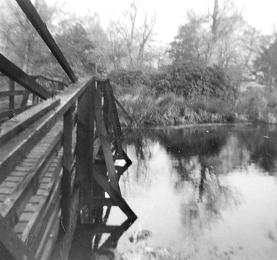 The Pleasure Grounds, Thoresby Park, are situated across
the lake
from
Thoresby Hall
next to the
Woodyard
. In the middle of the 18th century, when the
2nd Duke of Kingston
was extending the lake for his boats, he also landscaped the surrounding area, and the Pleasure Grounds originate from that time. This was a place where the Duke and subsequent Earls could stroll in private with invited house guests, possibly accessing the grounds via a boat trip across the lake, or via
Stone Bridge
at the point where the
River Meden
leaves the lake to continue on its way to
Perlethorpe
, or the wooden bridge seen above which once stood in the region of the weir.
Simply referred to on maps today as "Park", the Pleasure Grounds remained a private, secluded area into the 1960's. However, "Keep Out" signs did not deter the frequent stealthy adventures of local boys who, on one occasion, took a camera inside the grounds. These photographs of Thoresby Park's Pleasure Grounds from 1964 may well be unique.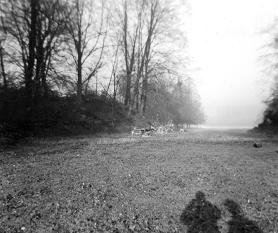 Above:
This passage way through the centre of the Pleasure Grounds is part of a three mile route which once linked Thoresby Bridge with
Buck Gates
in a perfectly straight line still clearly visible on
THIS MAP
. The Duke's carriages would pass this way en route to
Edwinstowe
or Ollerton, and Newark beyond. The Woodyard is situated at the side of this route, enabling efficient deliveries of gas and wood fuels to the Hall. In the centre of the frame one can see deer feeding, whilst the mist beyond obscures the view of Thoresby Hall itself.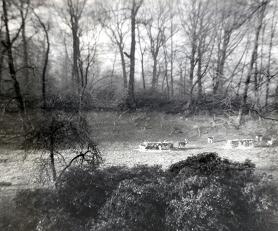 Above:
The same area but viewed from the top of the landscaped embankment, over the rhododendrons. These embankments also harbored what was referred to in the war years as a bomb shelter, but which in all probability was originally dug deep into the embankment to store ice before the days of refrigeration.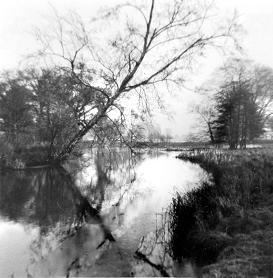 Top and above:
The River Meden leaves the landscaped Pleasure Grounds at the weir end of
Thoresby Lake
, before continuing on to
Perlethorpe Village
.
Labels: Dukeries, Pleasure Grounds, River Meden, Thoresby Hall, Thoresby Lake, Thoresby Park